Design and Ordering a Custom Prayer Wheel
While many people find their favorite Axis of Hope™ Prayer Wheels in Current Inventory, others prefer being part of the design process to reflect their personal tastes. Some people seek to personalize a gift with a story or meaningful symbols that celebrate a wedding, anniversary, birthday or memorial.
If you are considering a custom Axis of Hope™ Prayer Wheel, please peruse the Ideas Gallery and the sections below for inspiring ideas for your own unique prayer wheel. Photos in each section are labeled with a number and description. Make notes of the styles that you want in your Wheel and so that you can reference them in your conversation with Chris.
Ordering
Chris finds that conversations are the best way to connect about creating a custom Prayer Wheel. To place an order email Chris@axisofhope.net to set an appointment. Meetings can happen in his home studio or by phone. Expect an appointment to last about a half hour. If you are meeting over the phone, please have your computer opened to this page so that you can reference the elements you would like in your Wheel.
Ordering Disclaimer
If you are asking Chris to recreate a design or color that you find on this website or that you saw in person, he would be happy to remake the vessel for you. Please keep in mind that he can't guarantee that the result will match the specific colors of the vessel on which you base your order on. Chris will use the same process and materials he used to create the original vessel. If you are basing your color choice on digital photos understand that digital photos often have substantially different colors than the actual vessels. This is a result of differences in light, digital photo technology and the qualities of the computer screen on which the photo is viewed. All these elements can result in different perceptions of the color between the digital representation and the subject in person.
In addition to the limitations and peculiarities of digital photo technology, the actual color of his work is a product of the entire ceramic process beginning with the raw clay and colored clay slip which is painted on. There are many steps in the process each of which can effect the look of the final product. It isn't entirely predictable. Chris thinks of this creation process as a kind of dance to which he brings whatever skills and experience he's acquired over the thirty-five years he's been working clay. His partner in the "dance" are mined earth materials which can vary in chemical composition from one place to another in the mine depending on the serendipity of millions of years of eroding mountains and deposition of sediment. He works with those materials using water, air and time to shape and decorate the vessel. It is then fired to 2,134 degrees F in the kiln. The firing process brings forth the unique character of all that the earth and Chris have put into it. There are often surprises. For Chris as an artist the ceramics process is a continual lesson in humility.
Cost of Custom Design
Generally, prices for custom prayer wheels range from $1,000 to more than $4,000, depending on the size of the piece and the time involved in its design and creation. Please contact us for an estimate for your custom designed work.
Vessel Shape
As you consider what shape of Prayer Wheel you would like, also consider the dimensions. Keep in mind that the pedestal that the Wheel is bolted to is 8.5 inches in diameter and 2 inches tall.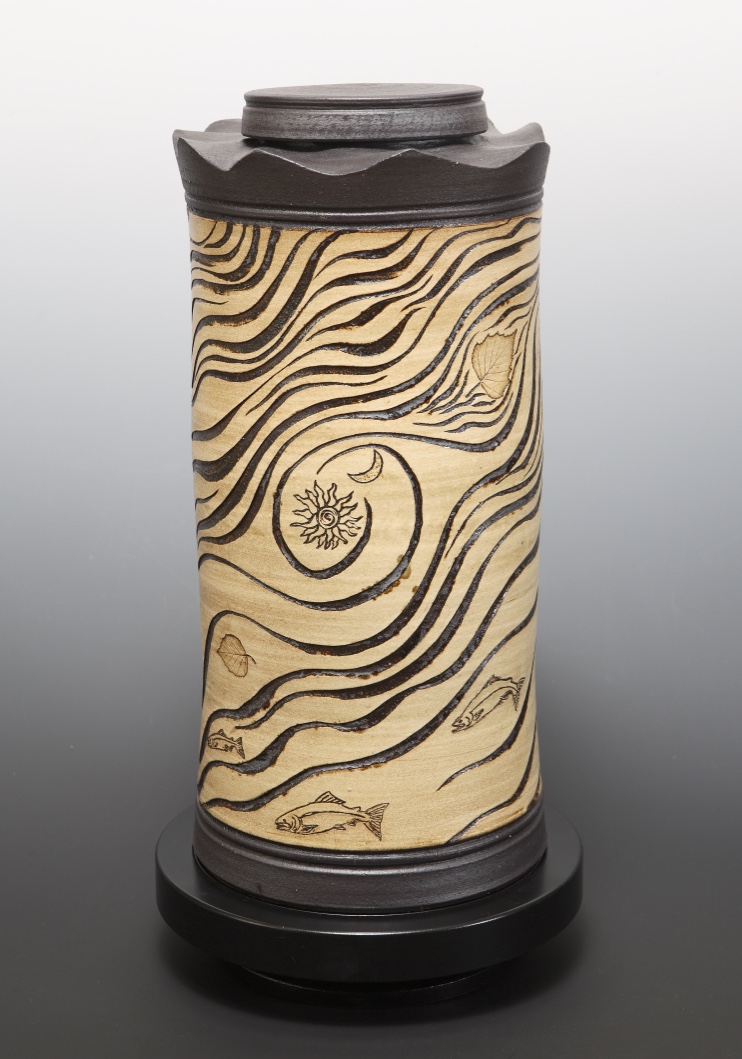 Lid and Handle Style
Lids can be inset with the top surface of the Prayer Wheel or can be built as a cap. Because the lid is meant to be removed to accept blessings and prayers, the opening is generally no smaller than 4 inches wide. The lid should also be easy to grasp by a handle or cap rim.
Color
You can choose iron oxide or colored glaze(s). Please note the glaze colors on the Axis of Hope™ Prayer Wheels you see throughout this section are the glazes I use. Reds, oranges, brilliant yellows and purples are not options at this point.
Top Style
The top of your Prayer Wheel is a surface that can be viewed in full as it revolves on the pedestal. It provides a different visual effect than the vertical section of the Wheel. The top can be flat, domed, or cut in undulating waves.
Band and Border Options
If you chose "No Bands" the design will extend from the wavy top to the wheel's base. If you chose "Top and Bottom Bands" the design is "framed" by a top band (just below the waves or carved top) and a bottom band (at the wheel's base). Some chose only one band.
Text Ideas
Text, music, or symbols can be incorporated into the design of your Prayer Wheel if you want something of that nature.